Over the next few weeks, I've invited some of my dear blogging friends to share words of encouragement here on the blog while I rock my newborn baby and get some much-needed rest. Today, I'm thrilled to invite Katie M. Reid on my virtual back porch to eat some blueberry scones and learn a new way to study the Bible that I believe will revolutionize your quiet time. I can't wait to give this method a try!  
---
I am a list-maker.
To-do lists provide organization and clarity for my racing thoughts and busy schedule.
About twelve years ago I took a Precept bible study class and learned to use a powerful tool that blended my affinity for lists with my love for God.
As you read the Bible keep a running list of what you learn about God.
It is a simple yet sacred practice. Let's give it a try.
Find God in the Bible in 3 Easy Steps:
Step 1: Pray and ask God to give you insight as you read.
Step 2: Read the passage
Step 3: List what you learn about God
Let's try it with these verses from Psalm 145:
1 I will exalt you, my God the King;
I will praise your name for ever and ever.
2 Every day I will praise you
and extol your name for ever and ever.
3 Great is the Lord and most worthy of praise;
his greatness no one can fathom.
4 One generation commends your works to another;
they tell of your mighty acts.
5 They speak of the glorious splendor of your majesty—
and I will meditate on your wonderful works.
6 They tell of the power of your awesome works—
and I will proclaim your great deeds.
7 They celebrate your abundant goodness
and joyfully sing of your righteousness.
Now my list might look like this:
Finding God in Psalm 145:1-7
God is worthy of being exalted (verse 1)
God is King (vs. 1)
God is worthy of praise (vs. 2, 3)
God's name is to be extolled forever (vs. 2)
Great is the Lord (vs. 2)
No one can fathom His greatness (vs. 3)
One generation commends His works to another (vs. 4)
God does mighty acts (vs. 4)
His majesty has glorious splendor (vs. 5)
His works are wonderful (vs. 5)
God's awesome works are powerful (vs. 6)
His deeds are great (vs 6)
His abundant goodness and righteousness is cause for celebration and joyful singing (vs. 7)
Look at all we learned about God from doing this easy exercise!
I like to include the verses after each statement for quick reference. Also note on line 3, "God is worthy of praise", I included two verses because they said something similar.
Now that we have this great list of qualities about God let's take things to the next level.
The ABC's of Digging Deeper into Truth:
A. Turn your list into a prayer of thanksgiving.

Look over your list and thank God for each attribute you discovered. This is a great way to pray as you praise God for Who He is. Psalm 145:3 "Great is the Lord and most worthy of praise"…
Dear God: You are King and worthy of praise. I extol Your name. You are great and do mighty acts. Your majesty and works are wonderful and powerful. Your deeds are great. I will celebrate and sing of Your abundant goodness and righteousness. I love you God. You are indeed a worthy God! Amen.
B. Make a piece of art to reflect what you learned.
Select one character quality about God—or many—to create word art, a drawing or a graphic image. This will help solidify what you gleaned from the passage.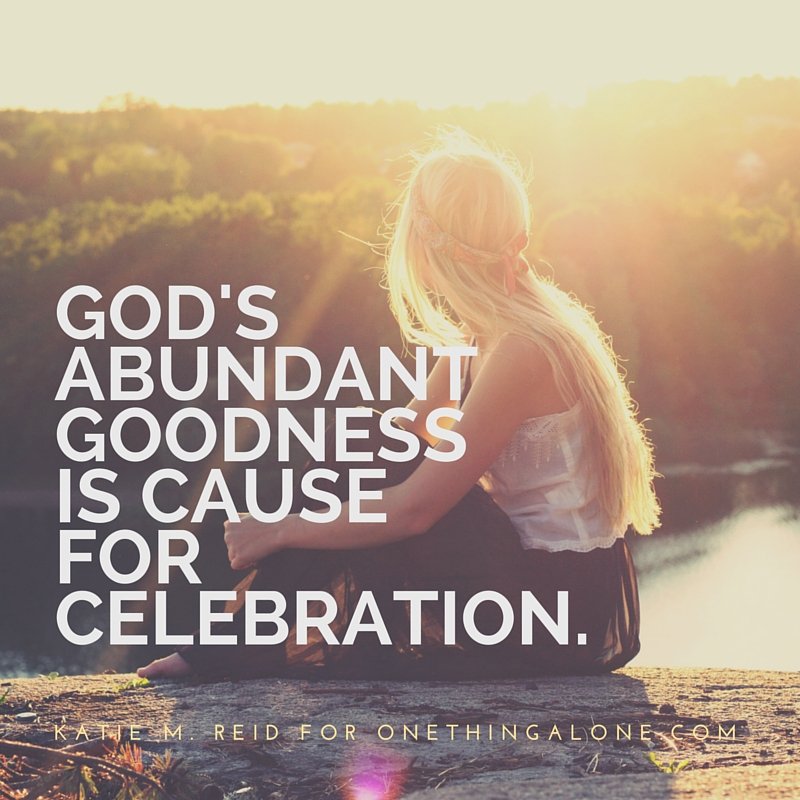 C. Memorize one of the verses for further reflection.
Write one of the verses from the bible passage on a 3×5 card or add it as a screen wallpaper on your phone. Read it several times a day until you commit it to memory.
Reflecting on God's character helps strengthen yours.
Making a list about God is easy but it has the potential to revolutionize your quiet time.
Now, it's your turn. Take the next section of verses, found in Psalm 145, and make your own list:
The Lord is gracious and compassionate,
slow to anger and rich in love.

The Lord is good to all;
he has compassion on all he has made.
10 All your works praise you, Lord;
your faithful people extol you.
11 They tell of the glory of your kingdom
and speak of your might,
12 so that all people may know of your mighty acts
and the glorious splendor of your kingdom.
13 Your kingdom is an everlasting kingdom,
and your dominion endures through all generations.

The Lord is trustworthy in all he promises
and faithful in all he does.
14 The Lord upholds all who fall
and lifts up all who are bowed down.
15 The eyes of all look to you,
and you give them their food at the proper time.
16 You open your hand
and satisfy the desires of every living thing.
I'd love to hear how this process goes for you! Give it a try and let me know in the comments section.
Katie M. Reid is a tightly wound woman who fumbles to receive and extend grace in everyday moments. She delights in her hubby, four children (and one on the way) and their life in ministry. Hot or iced tea and cut-to-the-chase conversations are a few of her favorite things. Through writing, singing, speaking and photography, Katie encourages others to find grace in the unraveling.
Connect with Katie at katiemreid.com and on Facebook and Twitter.
katiemreid.com
word weaver | heart singer | hope speaker | photo taker
Author of "Extra Salt on the Fries" a memoir piece found in Tales of Our Lives: Reflection Pond by Matilda Butler.