Over the next few weeks, I've invited some of my dear blogging friends to share words of encouragement here on the blog while I rock my newborn baby and get some much-needed rest. Today's guest post is from Amy Husted, and she lovingly challenges us with practical ways to make more time for God by tithing our time. I'd love to hear your thoughts in the comments below!  
---
Some days I sound like this:
Spend daily time with God? You mean more than a quick prayer in the car or before I eat? I don't have time for that. Have you seen the mess I need to clean up? Have you seen our calendar of school activities? I have a very demanding job. There is just no time for consistency like that. Only those spiritually-perfected Pinterest moms who wake up with both themselves and their house looking beautiful could pull something like that off. Give me a fairy godmother and maybe I can find that consistent time for God. But as it stands now, I just can't…
And on those same days, I sound like this:
Oh my goodness… have you watched all of Fuller House yet? I need to decompress tonight, so I'm just gonna pop on an episode… or two or three. I can make time for that. And I better not forget to hop on Twitter and Facebook before I turn out the light. I have GOT to read what everyone has been saying about this political campaign! And oh… Candy Crush! Maybe I can squeeze just one more level in. A few minutes of something brainless sounds refreshing right about now…
It's easy to think we're too busy for daily time with God, but in reality, we are not.
God gives us 1440 minutes in a single day. That's 10,080 minutes a week. What are we doing with those minutes?
Am I really going to say I can't afford to give God 15 of those minutes each day? 105 minutes a week? Can I really not give God 1% of my time (at a minimum) when he created me, He created this world, and He created all the blessings within it?
We live in a culture where time is often more valuable than money. There have been countless sermons on the topic of tithing in regards to our dollars. (And there is great importance in that!) But today I would like to present you with a challenge. I'd like you to consider the sacrifice you would have to make in order to tithe your time back to God.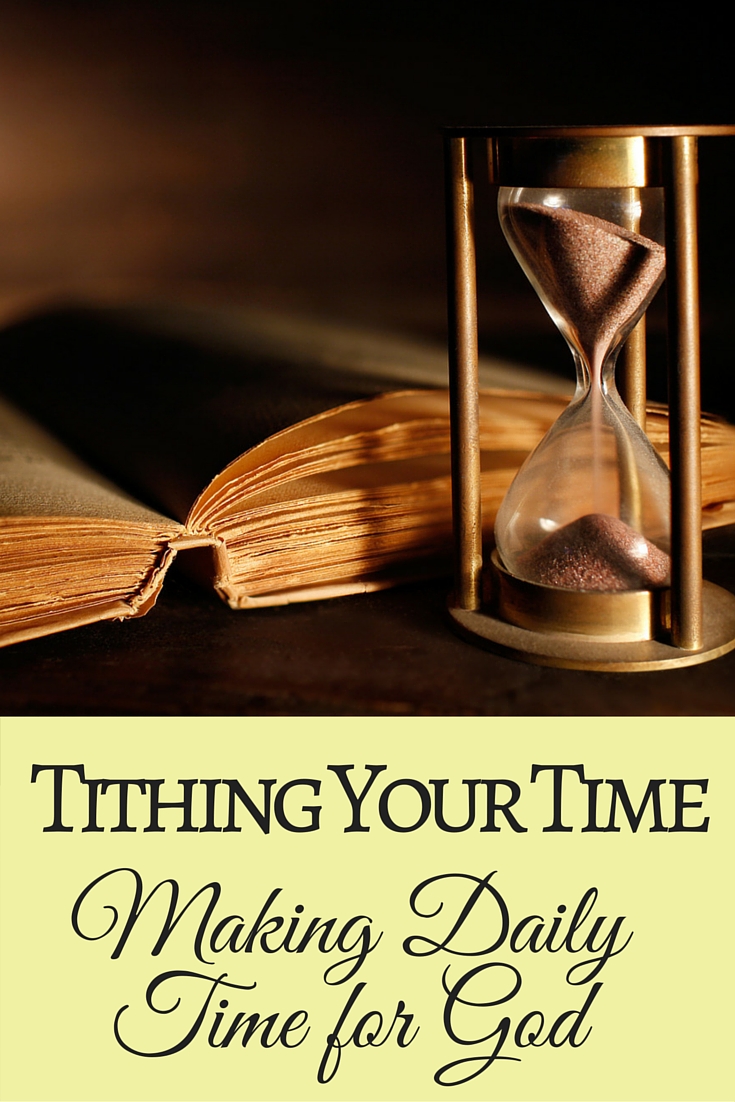 How would your life look different if you stopped saying "I don't have time," and instead you viewed each precious minute of your day as a gift from God? Let's remember that we're not owed one minute of breath, but that God gives us life as an overflow of His love and mercy. Maybe then, we will more easily find 15 minutes to sit in the quiet, reading His word and listening to His voice.
Here are 5 ideas to help you begin working daily quiet time into your schedule, today.
Hit the snooze button a few less times.
Assuming your kids take naps, give God the first few minutes.
Open your Bible before you open Netflix (or whatever your time-wasting pleasure may be).
Replace the Facebook app on your phone with your favorite faith-building app.
Give your schedule a complete overhaul and learn how to compartmentalize your time.
How about one last reality for you? When it comes to money, there are rich and there are poor. But when it comes to minutes in a week, there is not. Everyone on this earth has 10,080 minutes each week. "That perfect mom" does not have more time than you. She just spends her 10,080 minutes differently than you. She might have different responsibilities and different resources, but more time? No.
So how are you going to spend your time this week? And what of it can you give back to God's work in you and His church?
Photo Credit: www.canva.com

Amy Husted is a follower of Christ, stay-at-home mother of two boys, and an entrepreneur at heart. She is a Co-Founder of Komae, a service sharing platform that is reinventing babysitting and enriching family life. Connect with Amy and Komae on Facebook, Twitter and Instagram!