Gentleness | Fruit of the Spirit Prayer Season
Would people who know you describe you as "gentle"?
Ugh. That's a tough question, isn't it?
Our world doesn't value gentleness. Quite the opposite. We see brashness, contentiousness, and strife on display not just in Hollywood and Capitol Hill, but sadly in the Church as well.
The world and its desires has slowly infiltrated many of our hearts.
In fact, it's not uncommon to hear of Christian leaders who are grasping for power, influence, and control in their own circles, much like their secular counterparts would try to climb the proverbial ladder to the top.
And when I look in the mirror, I'm saddened to admit that those same tendencies of self-promotion often creep up in my own heart as well. If a little flashiness and brashness is what it takes to get my way–by golly I'm often tempted to do what it takes.
Like me are millions of others (on social media and offline) who ignore gentleness in favor of a more pragmatic pushiness.
We live in an influencer culture, where anyone can elbow their way to the front of the screen in a bid for likes and comments. People young and old are performing increasingly bizarre routines on TikTok and Instagram Reels in an attempt to get and keep our attention. And even in our neighborhoods and communities, it seems like someone is always outraged about something.
In the midst of this insanity, Paul's words seem antiquated, almost charmingly obsolete:"Let your gentleness be evident to all. The Lord is near."
Philippians 4:5 NIV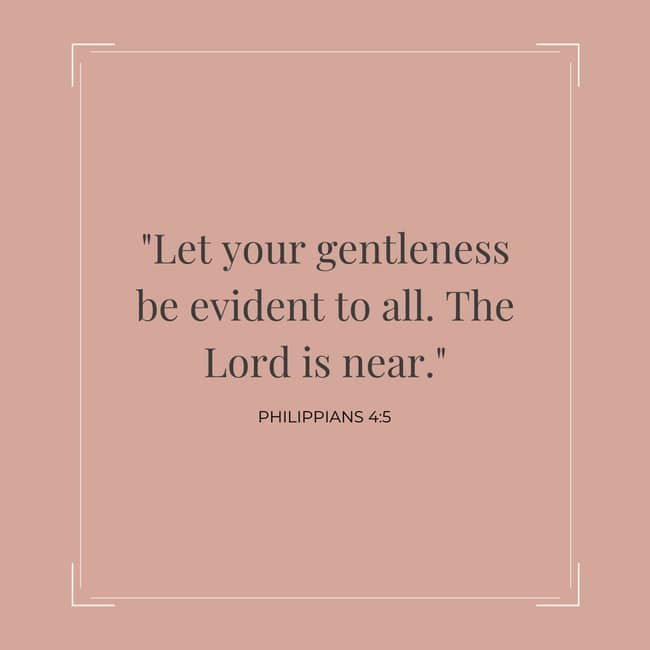 "Paul," we argue. "You don't know what our world is like today. We need to fight for our rights. We need to stick it to the man. We need to do whatever it takes to keep ourselves safe and secure."
And yet, the way of Jesus, Scripture says, is the way of gentleness.
"I am gentle and lowly in heart," Jesus says of Himself, in Matthew 11:29.
Gentle and lowly. The humble King who came not to be served, but to serve.
It's precisely because Christ Jesus is exalted to the right hand of God, and our lives are hidden with Him in glory, that we can follow in His footsteps and live gentle and lowly lives. We have nothing to lose!
But of course, gentleness doesn't come naturally to us. THAT is why the fruit of the Spirit includes gentleness (see Galatians 5:22-23), because gentleness is the mark of the person who abides in Christ Jesus.
The way of Jesus is completely antithetical to the way of the world. Just listen to these words, that sound like they could describe any political leader today:"Jesus called them together and said, 'You know that the rulers of the Gentiles lord it over them, and their high officials exercise authority over them. Not so with you. Instead, whoever wants to become great among you must be your servant, and whoever wants to be first must be your slave—just as the Son of Man did not come to be served, but to serve, and to give his life as a ransom for many.'"
Matthew 20:25-28 NIV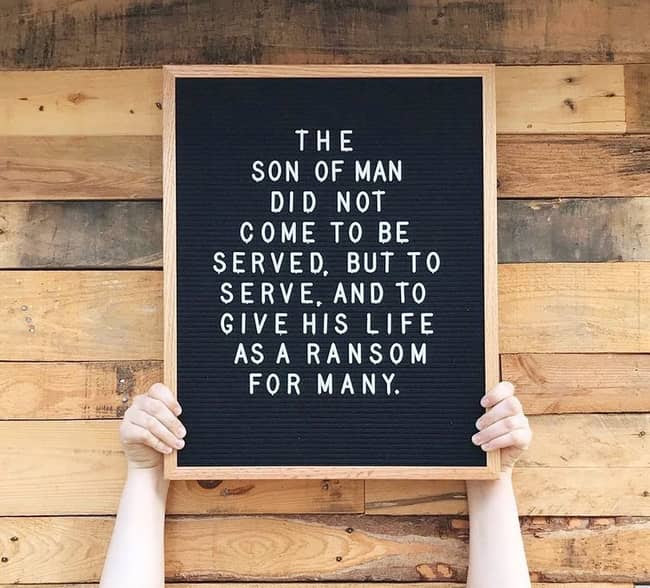 God calls us to be gentle. There's just no way around it.
And if we're not? Well, my friend, we're in a good position to repent and ask Him to grow in us His gentleness as we abide in Him.
Join me this week for 10 minutes of praying for God to work His gentleness in our lives.
…Imagine how your home would change if gentleness defined your life.
…What in your life would have to be different in order for your neighbors to call you "a gentle woman" or "a gentle man"?
…How would your community transform if the salt and light of God went out in gentleness and respect in the workforce, in our schools, in the grocery stores, and in game fields?
Just imagine… and then begin praying for that vision to become a reality.
It would take nothing short of a miracle, but God specializes in miracles. And if Jesus was able to faithfully fulfill God's mission on earth by being gentle and lowly, we can too.
---
From the Podcast…
---
"Let your gentleness be evident to all. The Lord is near." Philippians 4:5 NIV
Let's begin by Reciting God's Goodness, praising Him for who He is and what He has done in our lives… 
Gentle and Lowly Jesus, while You walked this earth You restrained Your divine power for the benefit of our eternal salvation. I praise You for how compassionate You are, tender with the littlest lambs, full of grace toward all.
"In the next few moments, praise God for how He has shown His goodness in your life recently."
We continue by Expressing Our Neediness, confessing our need for Him and His forgiveness. 
Lord, in this world that values power over gentleness, and influence over meekness, I struggle to even want to be gentle. It makes me feel weak. But You, Jesus, were gentle, and You call us to be gentle; so renew my mind. Help me to think Your thoughts and to reflect Your kind and tender heart toward all.
"In the next few moments, confess to God how you have failed to [love Him and love others], and express your desire to abide in Him, so that His Spirit may bear much fruit in your life."
Now we move into a time of Seeking His Stillness, becoming aware of God's loving presence surrounding us and filling us this very moment. 
How does the Lord's imminent return encourage us toward gentleness? Meditate on today's verse as you ask God to reveal opportunities to reflect His gentleness in your life today. 
Finally, let's Trust God's Faithfulness. I invite you to declare your confidence in God's faithfulness to produce fruit in your life, to preach to your own heart and soul that He is trustworthy and He will take care of what you entrust to Him.
Lord, I want my gentleness to be known to all, my conversations to be full of grace, and my presence to exude humility and kindness. That sounds so different from who I am today, but I know that if anyone can do it, You can. So I trust You to continue producing Your fruit in my life as I rest in You.
"In the next few moments, say it out loud: "God, I trust that You will be faithful."
Wish you could find rest in God's presence?
Learn how to finally focus your mind in prayer so that you can rest in God's presence when you download the REST prayer bookmark.